Capital District YMCA and Siena College Honor "Saint of the Month" Min Cho Ko and Justin Ko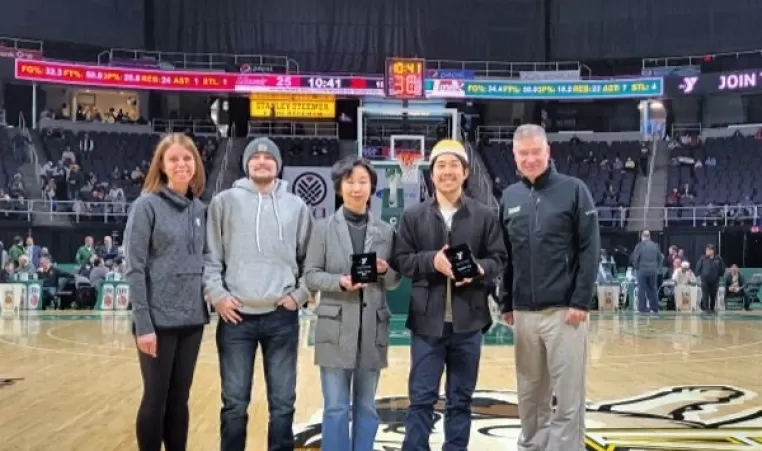 Son of Egg Owners Donated Over 500 Backpacks to Students in Rensselaer
Albany, NY (February 12, 2023) – On Sunday afternoon on February 12, 2023, the Capital District YMCA and Siena College honored Min Cho Ko and Justin Ko as the "Saint of the Month" for their dedication and investment into the Rensselaer community.
Korean immigrant Min Cho Ko opened the restaurant, Son of Egg, in Albany in 2020. Realizing quickly that she needed help, she brought in her son and RPI graduate Justin as her Managing Partner. Under the Kos' leadership, Son of Egg grew to a second location in 2022 in Rensselaer. They quickly realized the financial need in their new community and decided to undertake a massive project, organizing and funding 500 backpacks filled with supplies for students in Rensselaer. Working with Regeneron, Titan Athletes, and the CDYMCA, the Kos organized a two-day family event to hand out backpacks and celebrate the beginning of the school year, ultimately serving over 600 families. In 2023, the Kos are working together with the CDYMCA to host a back-to-school celebration for all of Rensselaer County.
Dave Brown, President, and CEO of the Capital District YMCA, said, "The Kos represent the best of our community. As business owners, they understand the impact on ensuring everyone in our community has a running start to the school year. We look forward to expanding our partnership with them."
Siena College and the CDYMCA name "Saints of the Month" each month at a Siena men's basketball home games, awarding it to those who have made significant contributions to their communities and exemplify selflessness and sacrifice for the wellbeing of their neighbors.