Capital District YMCA Hosts Annual Youth and Government Program Conference This Weekend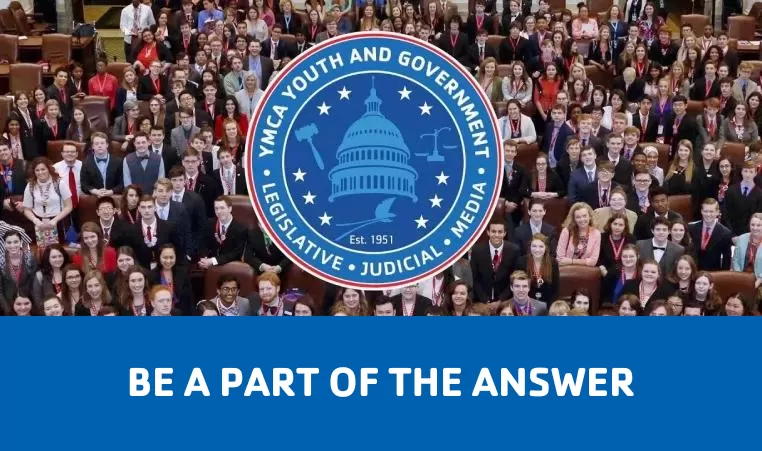 Conference in its 88th year, welcoming 500 students from around New York State for three-day event to learn about state government
Albany, NY, March 23, 2023 – Capital District YMCA welcomes students from around New York State to the 88th annual Youth and Government Program conference on March 24-26, 2023. The program is held at The Desmond Hotel, Albany Capital Center and New York State Capitol to encourage students to serve in a mock state government and learn how the government process works. The conference kicks off at 1:30 p.m. on Friday, March 24 with remarks from New York State Lieutenant Governor Antonio Delgado, at The Desmond Hotel in Albany. Students will be available for media comment at the event.
Students serve as part of a model state government and take over chambers of the New York State Senate and Assembly in the Capitol Building to debate bills they have created. Some of these bills – including the New York State backseat seatbelt law that was enacted in 2020 – came from the young minds of the Youth and Government program. The program started in 1936 in Albany, making the Capital Region YMCA the birthplace of the program. It is now a national YMCA program, offered in 49 states and Washington, D.C.
500 students will be at this year's conference, including 25 from the Capital Region including this year's Youth and Government lieutenant governor, a student from Averill Park. Students learn about a variety of issues, develop critical thinking, writing and orating skills, and learn how to constructively articulate their beliefs to their peers. The program teaches young people to use the democratic process to affect change with real impact on their communities and throughout New York State.
"We are thrilled to welcome hundreds of students from every corner of New York State to the Capital Region for another year of our Youth and Government program conference. The Capital Region YMCA is the birthplace of the program and has helped shaped the program in other states, so it is fitting that we have one of the most robust programs in the nation. Participating students have a history of creating real change as part of this program and their enthusiasm and eagerness to learn and contribute inspires the adults who organize and partake in the conference," said Emily Lang Anastasio, Capital District YMCA's director of marketing.
Students participate in one of five parts of the program: Executive, Legislative, Judicial, Lobbying and Press. Students can put their work before an assembly of peers for review.
Students who have participated in the Youth and Government program have gone on to illustrious lives in politics and civic engagement, including former gubernatorial candidate Lee Zeldin. Many students find that the Youth and Government program helps them with any career they pursue. Aidan Kennedy grew up in the Capital Region and participated in the Youth and Government program from grade 8 until graduation. "I really enjoyed the community that was fostered through (Youth and Government). It taught me how to write well and how to be precise and concise. It helped me with social interactions and I learned how to be open minded to other ideas and viewpoints," he said. Kennedy went on to study at University of Albany and is now in the English Ph.D program at University of Iowa with the goal of becoming a professor of literature with a specific focus on the socio-economic impact of literature, something he said his time in the Youth and Government program helped shaped.
Kennedy said that Youth and Government is a wonderful program to bridge the gap in civics education in schools. Lang agrees, stating, "without programs like Youth and Government, many students may never understand how the government system operates. We expect our participating students to bring what they've learned back to their classrooms and continue the cycle of learning, teaching their peers about the process."
Several state legislators are scheduled to attend this year's conference and press is welcome to attend the program kick-off at 1:30 p.m. on Friday, March 24, 2023 at the Desmond Hotel, where Delgado will be offering remarks and meeting with students. Questions about the Youth and Government program and press inquiries can be directed to elang@cdymca.org.
More information on the program can also be found at www.ymcanys.org/home/yag. Video of previous Youth and Government program conferences can be downloaded HERE.
Participating schools include: Averill Park; Baldwinsville; Bolton; Brentwood; Canisteo-Greenwood; Channel View School for Research; Coxsackie Athens; Farmingdale; Genesee Valley; Homer; Homeschool; Johnsburg; Manlius Pebble Hill; Marlboro; McQuaid; Mercy; Middletown; Minerva; Newcomb; North Rockland; Nyack; NYC Museum School; Pearl River; Penfield; Queensbury; Solvay; Syracuse Academy of Science; Tappan Zee; The Albany Academy; The Aquinas Institute of Rochester; Webster Thomas; Westhill; White Plains; William Floyd.
About Capital District YMCA: The Capital District YMCA is a not-for-profit organization serving more than 118,000 community members in eleven branches. Through a variety of programs and services focused on the holistic development of children and youth, family strengthening, and health and well-being for all, YMCAs unite men, women and children of all ages, faiths, backgrounds, abilities and income levels. From urban areas to small towns, our YMCAs have proudly served the Capital District's communities for more than 150 years by building healthy spirit, mind and body for all. Visit www.cdymca.org for more information.